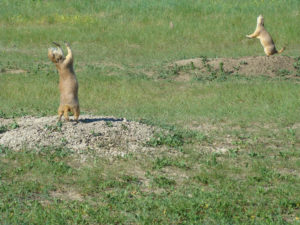 Over the last several years, the Forest Service has convened stakeholders of the Thunder Basin National Grassland, Wyo to better address the issues associated with prairie dog management and livestock grazing. These national grasslands remain a key site for the recovery of endangered black-footed ferrets. The stakeholders have been charged with building consensus toward striking a balance for the Forest Service to manage the Thunder Basin for cattle grazing and for the conservation of prairie dogs and the habitat they provide for native and endangered wildlife.   
Op-Ed – Casper Star Tribune (Dec. 7, 2017) 
Collaboration on the Thunder Basin means walking in the other's boots
Wyoming's Code of the West and "doing the right thing" are more than abstract expressions on the Thunder Basin National Grassland. They are the basis of a long-standing argument about how to manage prairie dogs. It's just that "doing the right thing" has a different meaning to ranchers and conservationists involved in the prairie dog debate.
Thunder Basin National Grassland is 550,000 acres of federal grassland in northeastern Wyoming, managed by the U.S. Forest Service. This landscape abounds with prairie wildlife and provides forage for livestock. Management is complex because the federal lands are intermingled with private and state lands.
Some ranchers say, "doing the right thing" means putting ranching interests first on these federal lands because they were set aside for agriculture in the first half of the 20th century, and grazing helps support their livelihoods, with cattle helping feed America.
For conservationists, "doing the right thing" means conserving wildlife resources and restoring the grassland's natural balance. As a keystone species, prairie dogs need to be maintained on a large enough area to also maintain the many species that depend on them for habitat, food and shelter, including mountain plovers, swift fox, ferruginous hawks, black-footed ferrets, burrowing owls, and other species.
Despite the controversies, cattle and prairie dogs can and do coexist, and these seemingly disparate interests are not mutually exclusive.
There is a lot at stake on Thunder Basin National Grassland. It is one of the best locations for maintaining a fully-functioning complex of prairie dog colonies, an important but largely missing part of a fully-functioning Great Plains ecosystem. Prairie vestiges such as these have become too few and isolated from each other, which has contributed to significant loss of wildlife. With less than 10 percent of the grassland designated as locations where prairie dog habitat is the priority, there is also ample room for livestock grazing.
Conserving our natural heritage is as important as maintaining our agricultural history in the rural West, combined, they create a unique sense of place. There are folks in Wyoming's agricultural community who are concerned that saving the prairie dog ecosystem comes at a cost to their way of life. For their part, the conservation partners involved in this issue remain concerned that livestock management comes at a cost to the health of the environment. Both sides make valid arguments. Yet, there really is room for both; our Code of the West challenge is to make it work.
One approach gaining traction in this debate is for the conservationists to begin walking in the 'cowboy boots' of ranchers, and for ranchers to walk in the 'hiking boots' of conservationists. By having a better understanding of the perspectives of the other stakeholders, we are hopeful that an improved dialogue will take shape and create a path forward for long-term solutions.
The question remains though, just what exactly is the balance we need to strike on the Thunder Basin. For our organizations and members across Wyoming and the nation, we are hopeful that the U.S. Forest Service will listen to those who are working toward collaboration rather than appeal to those wanting to force a "fix" in their favor. This means sticking with the promises and compromises made in the past on prairie dog management and working together on positive solutions moving forward.
Chamois Andersen is the Senior Representative of Defenders of Wildlife's Rockies and Plains Program, based in Laramie.
Lindsey Sterling Krank, is the Executive Director of Prairie Dog Coalition of The Humane Society of the United States.
Both groups as well as the World Wildlife Fund have been involved with wildlife conservation and prairie dog management on the Thunder Basin for more than a decade.